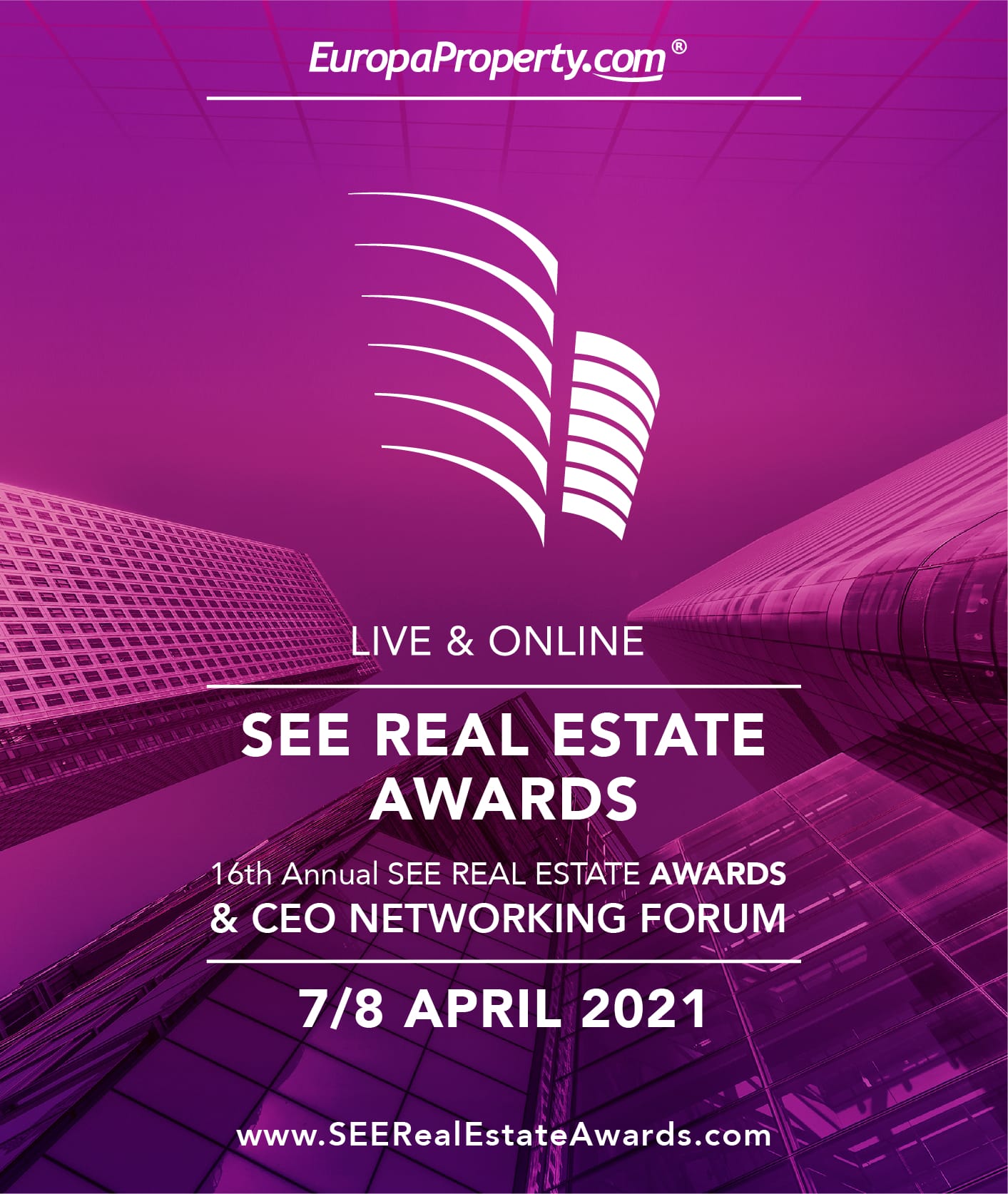 The 16th annual EuropaProperty SEE Real Estate Awards & CEO Networking Forum – is the only event of its kind covering the South Eastern European region. The event brings together the most active international and local developers, bankers, investors, lawyers and other CRE professionals operating in the region. This two-day event includes the CEO Networking Forum consisting of the most efficient networking and high impact discussion-panels covering the region's key sectors and issues followed by the evening's awards gala, with networking opportunities throughout the event and into the late evening.
CEO NETWORKING FORUM opens – February 1st
Meet the most active investors, developers, bankers, asset managers and CRE professionals active or looking to enter the SEE region. With over 400 directors – local, regional and international participants – this event is not to be missed.
The SEE Real Estate Awards & CEO Networking Forum is dedicated to the evolving investment and development opportunities that are presenting themselves to the market. The event is the only one of its kind with a real focus on the investment and development market with awards for top investors, investor/developers, bankers, projects and specialized service firms.
WELCOME TO THE BRAVE NEW WORLD OF ONLINE EVENTS
These are unprecedented times. To date, COVID-19 has had a severe impact on our lives, our business and society at large. Today we are faced with the enormous challenge to recover from the impact of the pandemic. So now more than ever the importance of the region as an attractive and safe investment destination is paramount. Before this current crisis investment into SEE was registering substantial increases, and expectations were that investment volumes would reach and exceed previous record volumes, with all of SEE expected to perform strongly. However, while the impact on the real economy has been dramatic, market experts are cautiously optimistic that the worst has already passed and that transaction activity could resume in the short term for Q3 and Q4.
In terms of asset classes, logistics has been the clear winner so far and offices might see increased demand for more flex options that offer easy adaptations to increases or decreases in space usage, as well as offer diversification of portfolios.
Across all asset classes, a flight to core and quality can be seen with value-add investments being the first to show repricing and discounts. There are also plenty of non-core assets, both existing and planned, which can be a target for more opportunistic players looking for risk-adjusted yields.
As well as plenty of interesting offers representing all property sectors within primary and secondary locations. However, long-term consequences are still unclear.
AWARD NOMINATIONS
Our independent jury carries out the process of deciding between the nominations for the award categories. The members of the jury are all experienced real estate professionals and are from every sector of the commercial real estate in the region.
The jury meets to finalize and vote on a shortlist, from all nominations received. The finalists, who are shortlisted, have their entries scrutinized and the jury then votes to decide the winners on the night before the gala at a jury dinner held LIVE and ONLINE via the latest digital technology. The event auditor, "EY", audit's the voting process.
Nominations will be marked against a range of criteria including Investment Objectives/Final Outcome, Performance, Experience, Knowledge of Sector, Communication with Partners, Reputation and Compliance.
Award Categories and Criteria
Company categories
Best BPO firm
Best Shared Services firm
Developer
Investor
Bank
Agency office leasing team
Agency retail leasing team
Agency industrial leasing team
Agency investment team
Agency residential team
Professional Service Provider
Legal Firm
Architect
Property Management
Project Management
Company nomination criteria:
Companies should be active in at least one of the SEE Markets and should be nominated on the basis of market contribution, quality of customer service, market innovation, commercial success, market penetration (number of countries in which they are active), and market depth (number of cities outside capitals in which they are active).
Project categories
Best Refurbished Mall
Office development
Retail development
Industrial development
Residential development
Mixed-use development
Hotel development
Project nomination criteria:
Nominations were made on the basis of the quality of design, quality of construction and the construction processes in relation to costs, environmental concerns, accessibility and location, with further consideration being given to the commercial success and durability of the project. Each award will be presented to the developer with the overall responsibility for a project.
Retailer categories
Luxury Retailer
Big Box Retailer
Entertainment/Leisure Retailer
Fashion Retailer
Cafe-Fast Food Retailer
Service Retailer
Multi-Media Retailer
Speciality Retailer
Newcomer
Retailer nomination criteria:
Retailers should be active in at least one of the SEE markets. Retailers can be nominated for innovation, expansion, contribution to the market, market share, concept and commercial success.
Overall categories
Overall Retailer
Overall Project
Overall Company
Professional Woman
Professional
Countries eligible to enter the awards include Romania, Bulgaria, Croatia, Slovenia, Serbia, Montenegro, Macedonia, the Republic of Moldova and Albania.