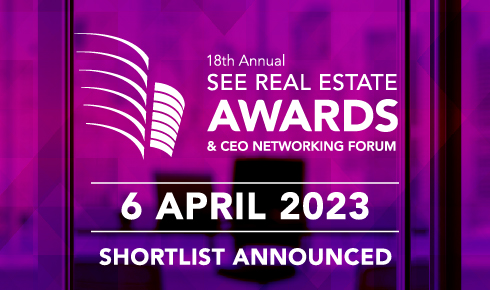 Semi-final results are now in for the 18th annual SEE Real Estate Awards representing the most outstanding and accomplished projects, companies, and individuals of the South-eastern Europe region. The anticipated celebration, which will be attended by some of the region's leading firms and personalities, will take place on April 6, 2023, at the Radisson Blu Hotel, Bucharest, Romania.
Craig Smith, publisher and founder of EuropaProperty, the leading commercial real estate media intelligence company, which organises the SEE Real Estate Awards Gala & CEO Networking Forum, remarked, "After a challenging couple of years, it pleases me greatly that we have received so many nominations. The economic strength and resilience of these developing markets are truly encouraging."
With the commercial real estate investment, development, office, industrial and retail sectors once again posting positive market indicators in Romania and the SEE region this year's event promises to be one of the most important and talked about with key local and international players already in or wanting to enter these promising markets participating.
Romania in particular has re-emerged from the crisis in good form. The country offers both development and investment opportunities, and it has potentially higher returns, albeit with more perceived risk than the more established CEE markets.
Market leaders in both development activity and pure investment will compete for awards in the office, retail, warehouse and residential sectors. The sponsors, attendees and judges are senior-level European or Central European directors, which affirms the SEE Real Estate Awards as a true industry landmark event.
Now senior players from the dynamic SEE real estate markets are readying themselves for the region's premier commercial real estate event. The semi-final results have been narrowed down, by an independent jury of judges, from a field of over 400 nominated companies and projects to determine the following semi-finalists:
Shortlisted Semi-finalists
Retailer
AC&co.
C&A
Douglas
Kaufland
MOBIA
Primark
Suwen Lingerie
Professional Service Provider
Adest Architecture
Chapman Taylor
BuildGreen
Nooka Space
New Work
PlanRadar
Premier Estate Management
Rohlig Suus Logistics
Construction Firm
Bog'Art
Hidro Top Construct
MASTERBUILD
Law Firm
Dentons
Popescu & Asociatii
Popovici Nitu Stoica & Asociatii
RTPR | Radu Taracila Padurari Retevoescu
Stratulat Albulescu
Wolf Theiss
Project Management Firm
Brisk Group
CBRE
MASTERBUILD
Oktopaz
Optim PM
Sentient
Vitalis Consulting
Property Management Firm
CBRE
Fortim Trusted Advisors
Kastel Group
Premier Estate Management
Shopping Centre Director
Costin Blideanu – AFI Europe
Luciana Giurea – AFI Europe
Sorin Scintei – AFI Europe
Agency
CBRE
CBS International
Colliers
Fortim Trusted Advisors
Green Alley Real Estate
Griffes Boutique
Kadena International Realty
Kastel Group
Premier Estate Management
SVN Romania
Bank
Banca Transilvania
BRD Groupe Societe Generale
pbb Deutsche Pfandbriefbank
Investment Deal
BIG CEE acquires Delta City Mall in Montenegro
Bluehouse Capital sells Olympia Tower to Yellow Tree
Expo Business Park acquired by S Immo
Forte Partners sold U•Center phase 1 to Paval Holding
GTC sold Cascade in Bucharest
GTC sells Matrix A and B in Zagreb
Indotek Group acquires One Victoriei Center
Speedwell sells 75% stake in Miro to Hili Properties
WDP closes sale and leaseback transaction with Techtex and Taparo in Romania
Sale of CA Immo office portfolio in Bucharest to Paval Holding
Investor
Fortress Real Estate Investments Limited
Adventum Group
Hagag Development
Indotek Group
ONE United Properties
Pavăl Holding
Revetas Capital
S Immo
Supernova Invest
W. P. Carey
Residential Developer
AFI Europe
Alesonor
Bog'Art
Brixwell Investment
Forty Management
Interdraw
Next Group
ONE United Properties
Prime Kapital Development
Țiriac Imobiliare
Retail Developer
AFI Europe
Colosseum Mall
Prime Kapital Development
Scallier
Square 7 Properties
Warehouse Developer
Element Industrial
MASTERBUILD
Speedwell
WDP
Office Developer
AFI Europe
Forte Partners
Genesis Property
GTC
Hagag Development
ONE United Properties
Speedwell
Țiriac Imobiliare
Concept Design
America House refurbishment
C&A store refurbishment in Ljubljana
New offices of Rohlig Suus Logistics
YUNITY Park Campus in Bucharest
Refurbishment/Extension Project
AFI Lakeview – AFI Europe – Romania
America House – ADD Value Management/Fortim Trusted Advisers – Romania
City Gate – GTC – Romania
Colosseum Mall – Colosseum Mall – Romania
H Tudor Arghezi 21 – Hagag Development – Romania
Slatina Retail Park – Square 7 Properties – Romania
Supernova Ljubljana Rudnik – Supernova Invest – Slovenia
Residential Project
Amber Forest (phase 1) – Alesonor – Romania
Avalon Estate (phase 1) – Prime Kapital Development – Romania
Art City – Art Property Development with Bog'Art – Romania
Central District Viitorului 134 – Forty Management – Romania
Cosmopolit Cantacuzino – Cosmopolit Development – Romania
THE IVY – Speedwell – Romania
Stejarii Collection – Țiriac Imobiliare – Romania
Warehouse Project
ELI Park 3 – Element Industrial – Romania
MASTERBUILD Logistics Park – MASTERBUILD – Romania
Profi Timisoara – WDP – Romania
SpacePlus – Speedwell – Romania
Retail Project
AFI City Bucurestii Noi – AFI Europe – Romania
FunShop Park Timișoara – Scallier – Romania
Prima Shopping Center – Oasis Development – Romania
Spot Shopping Park – Tommy – Croatia
STOP SHOP Velika Gorica – Immofinanz – Croatia
Office Project
AFI Tech Park 2 – AFI Europe – Romania
City Island Zagreb (phase 1) – KFK – Croatia
Energy Tower – Smart Development Group – Bulgaria
Globalworth Square – Globalworth – Romania
GTC X – GTC – Serbia
London & Oslo office buildings – River Development – Romania
MIRO Offices – Speedwell – Romania
One Cotroceni Park (phase 2) – One United Properties – Romania
Sofia Tower 2 – GTC – Bulgaria
Tandem – Forte Partners – Romania
Tiriac Tower – Țiriac Imobiliare – Romania
Future Project
AFI Arad – AFI Europe – Romania
BIGZ Business Center – Marera Real Estate Partner – Serbia
Nordis Hotel Mamaia – NORDIS MANAGEMENT – Romania
NEXT COLLECTION – Next Group – Georgia
U•Center (phase 2) – Forte Partners – Romania
Future Residential Project
AFI Home North – AFI Europe – Romania
Agora Amber Forest – Alesonor – Romania
One Verdi Park – One United Properties – Romania
Sungate Apartments – Interdraw – Romania
Future Mixed-use Project
AFI Brasov & AFI Park Brasov – AFI Europe – Romania
Central District Lagoon City – Forty Management – Romania
One Cotroceni Park – One United Properties – Romania
PALTIM – Speedwell – Romania
Silk District – Prime Kapital Development – Romania
Yunity Park – Genesis Property – Romania
Professional
Alina Verdeata – Green Alley
Andreea Paun – Griffes
Bogdan Doicescu – Bog'Art
Didier Balcaen – Speedwell
Doron Klein – AFI Europe
Elena Tecuță – Forte Partners
Emma Toma – AFI Europe
Geo Mărgescu – Forte Partners
Leonidas Anastasopoulos – Alesonor
Mihai Dinu – Colosseum Mall
Mihai Zaharia – Globalworth
Razvan Nica – BuildGreen
Silviu Stratulat – Stratulat Albulescu
Ziv Gigi – GTC